Tullyhirm Pumping Station: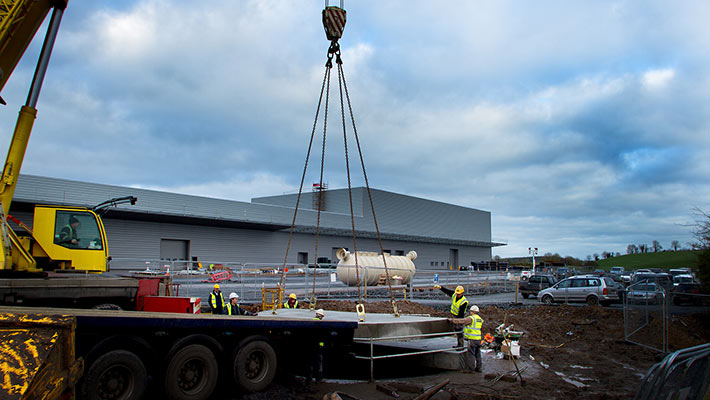 | | |
| --- | --- |
| Client | Irish Water |
| Location | Monaghan Town |
| Consultants | Clifton Scannell Emerson Associates |
| Completion Date | 2017 |
Design and Build contract to deliver a new Pumping Station capable of serving development lands in Monaghan Town with a design capacity flowrate of 28.5 l/s and emergency net storage of 100m3.
In order to cater for an initial flowrate of 1.04 l/s, the pumping station was designed with future adaptability considered at all times during the design of pipework, pump pedestals, pump sump, guide rails, level control apparatus and telemetry.
As part of the design process we examined all possible options for the wet well and overflow storage chambers with regard to arrangement, structural load capacity and constructability. We selected a combined chamber for the pumps and overflow storage considering the restricted nature of the site, ongoing adjacent site works and accessibility for maintenance by the end-user.
The 6m diameter chamber was constructed using the caisson underpinning method to a depth of 10m. Ancillary works included valve and meter chambers, control kiosk, access road and compound development.
The works are carried out under the Public Works Contract for Civil Engineering Works Designed by the Contractor PW-CF4