Annahagh Rising Main: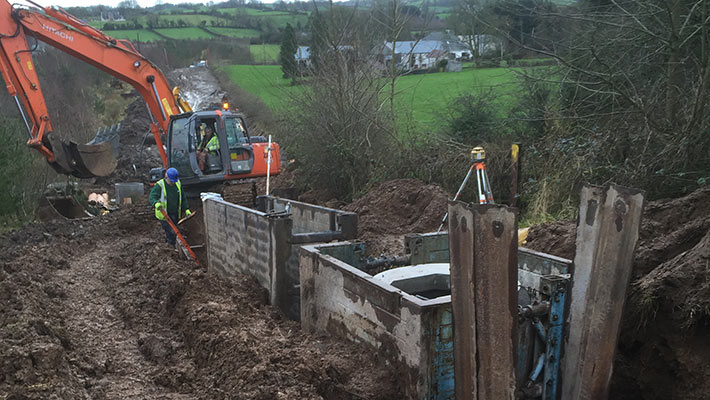 | | |
| --- | --- |
| Client | Monaghan County Council |
| Location | Annahagh, Monaghan |
| Consultants | Monaghan County Council |
| Completion Date | 2016 |
New foul sewer from Annahagh Roundabout on the N2 Monaghan Bypass to the existing Old Armagh Road Pumping Station west of the Bypass Flyover.
The route of the rising main extended over 1km, passing under the N2 National Primary Route before running parallel, traversing steep gradients and soft waterlogged ground en-route.
The 180mm diameter HDPE Rising Main was installed under the N2 adjacent to Annahagh Roundabout for a distance of 120m via horizontal directional drilling. The rising main was extended around the roundabout via open trench method climbing 15m to the top of the road embankment before discharging to a decompression chamber.
A 300mm gravity sewer connects the decompression chamber to the Old Armagh Road Pumping Station with eight backdrop manholes used to descend the steeply sloping N2 embankment.
The project also included extension of the 180mm HDPE watermain supplying Monaghan Fire Station to the future development lands at Annahagh Roundabout and construction of a Greenway along the entire length of rising main.
The works were carried out under the Public Works Short Form of Contract PW-CF6.