Lisnagunnion Flood Alleviation Scheme: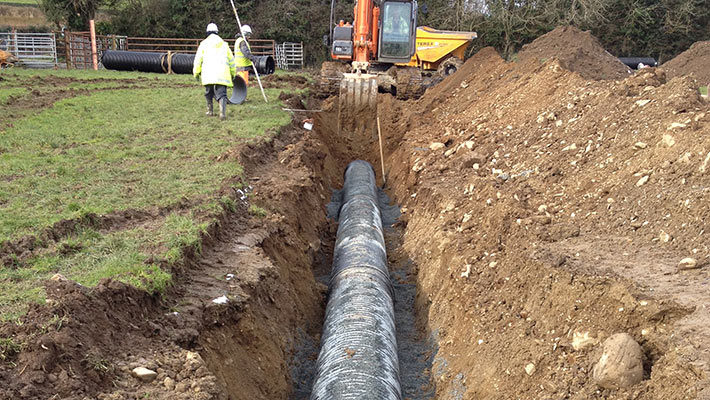 | | |
| --- | --- |
| Client | Monaghan County Council |
| Location | Lisnagunnion, Co. Monaghan |
| Consultants | CS Pringle Consulting Engineers |
| Completion Date | 2015 |
Flood alleviation scheme adjacent to the N2 National Primary Route north of Carrickmacross.
The scheme involved construction of a 600mm culvert overflow from an existing sink hole on private lands connected to the surface water network along the N2.
Traffic and pedestrian management design and implementation

Site investigation to locate existing fibre optics, power, water and telecoms services

Supply and installation of 350m of 600mm HDPE culvert at depths ranging from 2-4.5m in roads, fields and private properties

Replacement of 6" asbestos cement water main with HDPE pipe

Breaking and excavation of 4m deep rock in trenches

Scouring, swabbing, sterilisation and testing of water mains in accordance with WIS 4-32-17
Temporary and permanent trench reinstatements in roads and verges

The works were carried out under the Public Works Short Form of Contract PW-CF6.